By Pisamonas
27 September 2017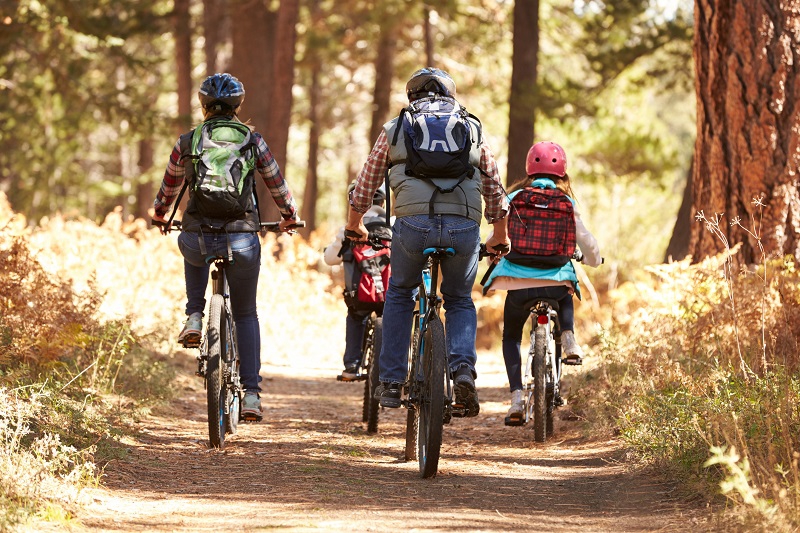 Enjoy autumn in the great outdoors
Autumn time is almost here, the summer is behind us and the everlasting hours of sunshine too. The long afternoons are gone, the days are getting shorter and stretching ahead of us is the return to routine, school, work and after-school classes. But at least we have the weekends to enjoy our free time and be with our families. If you are looking for ideas for things to do with kids at the weekends, you are in the best possible place. This week at Pisamonas we would like to suggest a really fun idea for children and adults alike: heading off for a weekend to the countryside!
First choose your activity
You're sure to be thinking that to enjoy a getaway, you have to leave the city far behind, but this is the first myth we wish to destroy. It's enough to get a few kilometres away from the city, because there are a multitude of green fields and spaces not far outside the big cities. If you don't have access to a car, go along to one of the parks that abound in our cities providing the opportunity to enjoy a day outdoors. There's no need to go all the way to the Pyrenees to enjoy a family day out in the open air!
If you want to enjoy the countryside in a different way, a really fun option especially with older kids is to take a bike ride, either mountain bikes or electric bikes. If you go for this idea you'll have to get information regarding companies offering this service and the age restrictions for the activity. If you and your family are intrepid types we suggest that you check out the adventure activity companies in your area, as many of them organize activities for families, such as adapted paint ball, wooden walkways, zip lines, orienteering games ... If you want to experience a real family adventure this is the perfect option for you.
If your children like animals, zoos and wildlife parks could be a great choice. Don't assume that all these ideas for activities with kids require a full weekend getaway, as there are many in your local areas, each specialized in particular animal habitats and offering the perfect way to spend a family day outdoors. To discover animals in a really different light, if you haven't heard of them, we recommend a visit to farm school. There are lots of them in towns and close to the cities, and kids (and grownup kids too...) can have fun collecting eggs from the chicken coop, milking cows or seeing the goats in their pens ...
You don't need to take much for a day in the countryside... just enthusiasm!
You don't have to get kitted out in full hiking gear or to get rigged out as if you were a sherpa ... you just need to wear comfortable clothes and shoes. Don't forget to wear adequate clothing to protect yourself from the rain and a pair of wellies would be a good idea too. We all know very well that the weather is always really changeable in Autumn time and we wouldn't want you to be caught unprepared by a storm in the middle of the countryside.
Going in a family walk and enjoying the outdoors will help the family to disconnect, recharge everyone's batteries, and above all spend some enjoyable time together. Not to mention all the overall benefits it offers for kids: helping to prevent childhood obesity, improving sleep quality, helping kids to relate more naturally with their surrounding environment. In addition, there are many ways for you to have fun en route; playing and kicking up leaves, naming the animals you spot along the way, discovering unusual stones, organising a small treasure hunt, picking mushrooms or looking for fruits on the trees and bushes. You and your kids are bound to think of many more ideas, but be sure not to forget to take a ball!
General advice
Whatever the activity you are planning to do we recommend:
Make sure the activity is suitable for the kids' ages. If they are not used to walking don't plan a 20 kilometre walk, but start off at a gentler pace and get them used to walking day by day, thus ensuring that your children really enjoy the countryside.
Always take something to eat; some fruit and other snacks and, most importantly, water. You could even prepare a small picnic to take on your outing.
Don't trust the weather at this time of year, as it can be very fickle. You can leave home in the cold, then the sun will come out but then in the afternoon it might rain..always bear this in mind!
In the mountains, be sensible; never forget to respect the environment, don't throw rubbish down and don't start fires. It's essential to teach children to respect nature from early childhood, as this is the most precious inheritance that we will leave to them.
If you choose an activity involving animals, never forget to follow the instructions of the organization, for the sake of the animals' health and safety and your own.
If you feel like a weekend away, we recommend that you try to get as close to nature as possible. There are a wide range of options on offer for rural accommodation, many of them in natural surroundings where you can disconnect from the city and enjoy the peace and quiet. Much of this accommodation is on small farms with animals around the lodgings the,selves and offering guests similar experiences to the farms schools, with the added novelty that later you can make an omelette with the eggs that you have collected or take the milk with you to have breakfast on Monday morning before going to school... Something that does not happen to us very often in life.
Always Remember to wear comfortable shoes like our boots available in sizes 18 to 45, just ideal for children, women and men, so that the whole family can enjoy a day in the country and wearing matching footwear to boot. It will be real fun to be part of a team!