Free shipping, exchanges and returns
Telephone, email or WhatsApp
The Pisamonas 3x2 sale is here!
Print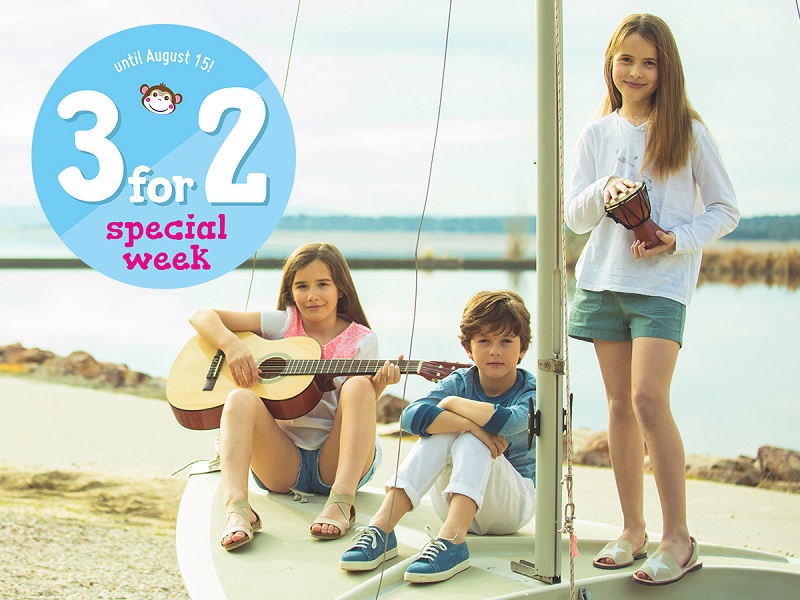 Take advantage of this offer to update your kids' footwear!
August has arrived and with it one of our most popular offers: Pisamonas
3for2
! Without a doubt, the perfect time to get your hands on the best children's footwear and accessories, and get one product absolutely free! Are you off on holiday to the beach and have realised that your kids'
flip flops
from last year are too small? Have you been eyeing some stylish sandals, and does your little girl want a pair too? Do any of your children need a new pair of
school shoes
, but fancy another pair of shoes too? Well, that's what the Pisamonas
3for2
is for! Easy, convenient and excellent value! This week will become your favourite Pisamonas sale!
How does it work?
The Pisamonas 3for2 is so simple that you'll find it hard to believe: you only have to pick three products (footwear and/or accessories) and we'll give you the cheapest free! But, so you're completely sure of how this offer works, we've explained it for you step by step: How long does the 3for2 last? From 3rd to 15th August What exactly is it? For every 3 products you buy, you pay for just 2. The third (the cheapest), is free! For example, if you buy a pair of shoes that are worth 15, 20 and 25 euros, rather than paying 60 euros you'll pay 45! If I buy 6 products, will the 3for2 still apply? Of course! This offer is unlimited and you can take advantage of it whenever you want during the set period (3rd-15th August). If you buy 6 shoes, you'll only pay for 4, and so on and so forth! And would I have to buy them in two separate orders for the discount to apply? No, you only need to place one order with all of the products you want and the discount will be applied automatically. Where is this offer valid? The Pisamonas 3x2 is applicable both on our website and in all physical Pisamonas stores. Don't know where your nearest Pisamonas shop is? Just click here and find out! What do I need to do to apply the discount to my online order? You don't have to do anything differently! No code required. Simply add the products you want to your shopping cart and the discount will be applied automatically, as you'll see in your purchase confirmation. What products are included in this offer? ALL OF THEM! This offer is applicable to any Pisamonas product: footwear, accessories, spring-summer, autumn-winter, school shoe, occasion shoes, trainers for children and parents... Do you have to buy 3 products from the same category? No, you can mix and match to your heart's desire, regardless of class or category. You can choose 3 of the same shoe, 3 different shoes, 2 different shoes and an accessory... There's no limit on the products you can select. Can I use the 3for2 offer on more than one occasion and on different days? Of course! This isn't a limited offer, so you can make all the purchases you want between 3rd and 15th August. Get your hands on children's shoes online and in store as many times as you need to! If I've placed an order a few days or hours before the start of this offer, will the third pair be discounted? The promotion only applies to purchases made between the 3rd and the 15th of August, inclusive. If I buy two products in separate orders, do I get a third product free? No, the promotion applies to three products purchased at the same time. If I make a payment by transfer and it arrives when the offer has already finished, will there a problem? No, to enjoy the 3x2 offer you only have to make the purchase during the offer period. If the transfer arrives after August 15 and you buy before that day, there's no problem! The discount will still apply. Are shipping, exchanges and returns are still free? Of course. The only thing that might happen is that when you make an exchange or return something your order total could change. For example, if you purchase a 15 euro products, another for 20 and another for 20, you'll get the 15 euro one free. If you decide to change the 15 euro one for a 25 euro one, you'll have to pay an extra five euros, as the 20 euro product will become the cheapest product, and therefore the free one. Can this offer be combined with Pisamonas Club discounts? Yes, the Pisamonas Club discounts will remain valid. See how easy it is to take advantage of the Pisamonas 3x2 offer? If you've still got any questions, just get in contact. We'd love to help you out!
Get last minute shoes for this summer
During the Pisamonas Unique Week, you can buy the
spring/summer shoes
you want or that you've realised your family will need at the last minute, at the best price.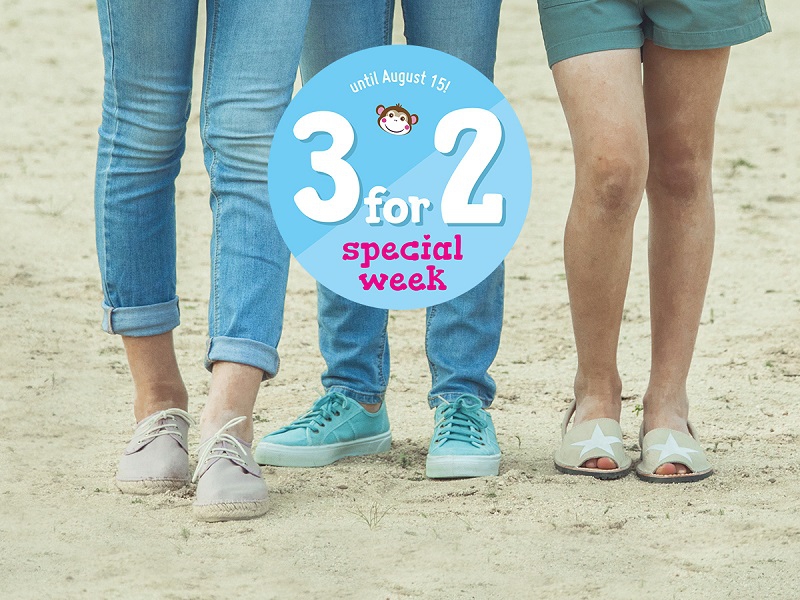 Save on going back to school!
As well as this season's products, our new products and items from the autumn-winter 2018 collection are also on offer, so why don't you take advantage of this Unique Week to get ready for autumn and buy your children's school shoes?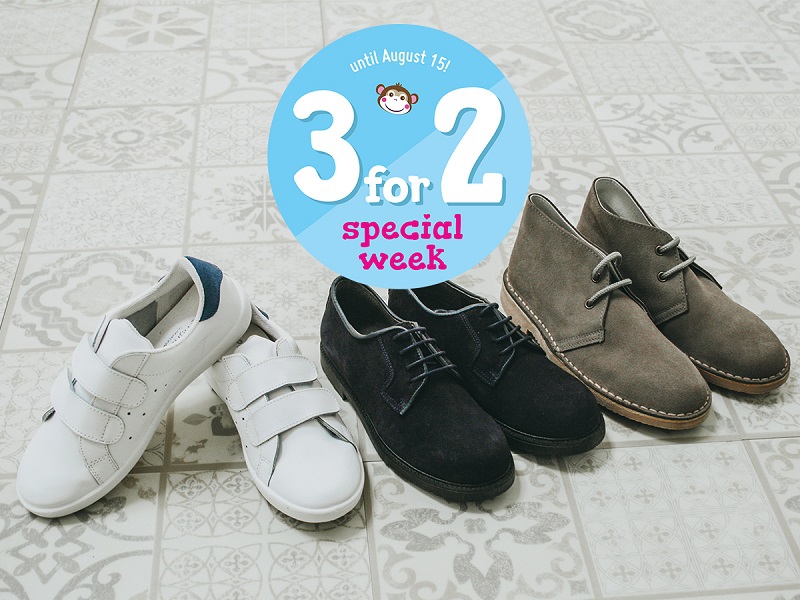 So don't hesitate! Be practical, save with Pisamonas and make September easier on yourself with our Unique Week of 3x2!